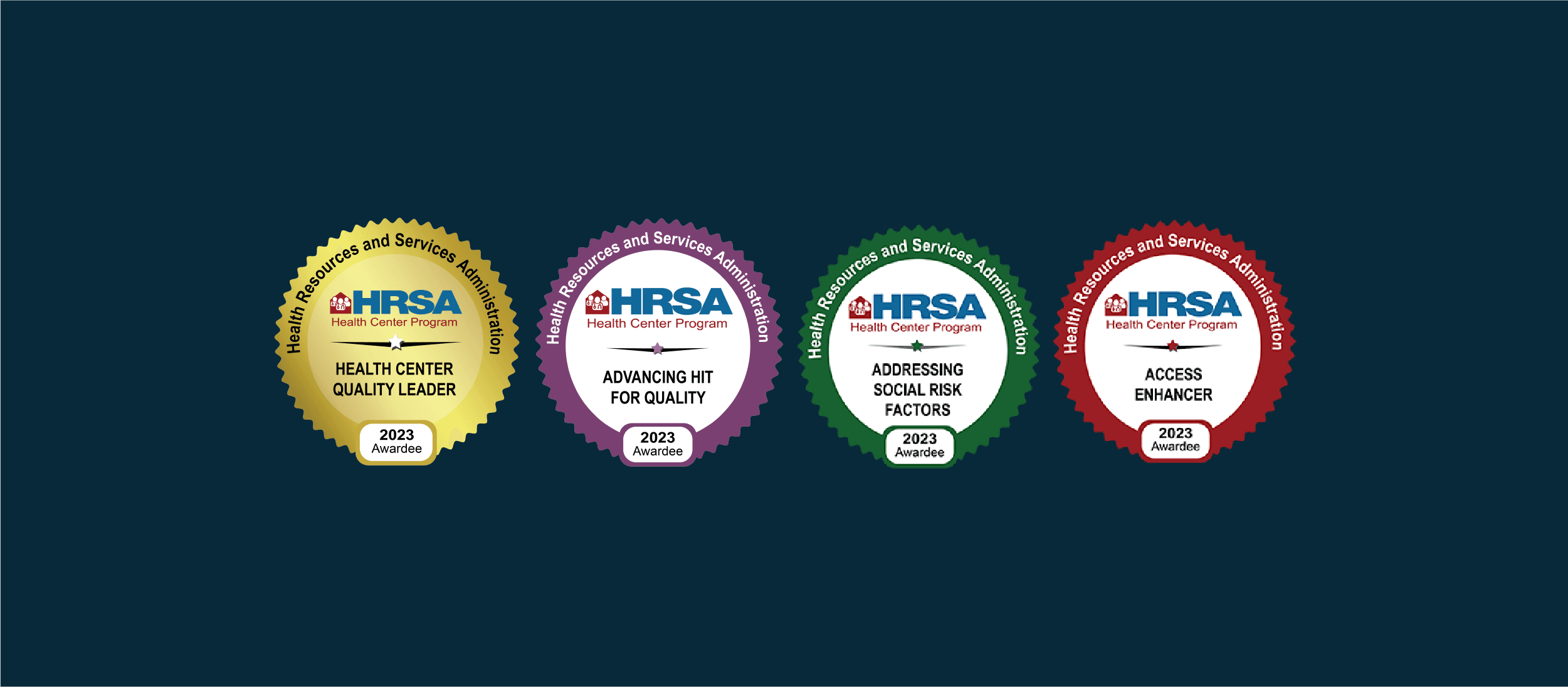 DUBUQUE, IA, November 10, 2023 - The Community Health Quality Recognition (CHQR) badges recognize Health Center Program awardees and look-alikes (LALs) that have made notable quality improvement achievements in the areas of access, quality, health equity, and health information technology for the most recent Uniform Data System (UDS) reporting period.
Crescent Community Health Center (Crescent) was awarded the Gold Health Center Quality Leader, Access Enhancer, Addressing Social Risk Factors, and Advancing Health Information Technology (HIT) for Quality. Below is further detail on each badge:
Health Center Quality Leaders achieve the best overall clinical quality measure (CQM) performance among all health centers. They are recognized in the following tiers: Gold (top 10%), Silver (top 11-20%), or Bronze top (21-30%).
Access Enhancer: Recognizes health centers that increase the total number of patients they serve and the number of patients who receive at least one comprehensive service (mental health, substance abuse, vision, dental, and/or enabling) by at least 5%.
Addressing Social Risk Factors: Recognizes health centers that increase the percentage of patients who received enabling services between the last two UDS reporting years.
Advancing Health Information Technology (HIT) for Quality: Recognizes health centers that meet all criteria to optimize HIT services. Eligibility is calculated using 2022 UDS data. Health centers must meet the following five criteria:

Adopted an electronic health record (EHR) system
Offers telehealth services
Exchanges clinical information electronically with key providers health care settings
Engages patients through health IT
Collects data on patient social risk factors
In June, 2023, Crescent received the following accreditation:
Patient Centered Medical Home (PCMH): The National Committee for Quality Assurance (NCQA) has developed a set of standards and guidelines for assessing a practice's transformation into a Patient-Centered Medical Home. To achieve PCMH recognition, practices must meet all 40 core criteria and earn 25 credits from elective criteria across 5 of the 6 concepts. The PCMH Recognition program has evolved to feature a set of six concepts that make up a medical home, including Care Coordination and Care Transitions. Practices pursuing or maintaining PCMH Recognition are encouraged to report on standardized measures whenever possible in the Quality Improvement concept.
"This is a moment of great pride for Crescent and a testament to the exceptional care we provide to our patients. Achieving the Gold award is a remarkable feat, as it places us among the top performing centers in the entire nation. Out of 1,370 centers, only 144 attained this level of recognition for the 2022 UDS results," said Gary Collins, Chief Executive Officer. "These adjusted quartile rankings take into account important factors such as the percentage of uninsured patients, the proportion of racial and ethnic minority patients, the number of patients experiencing homelessness, and our electronic health record status. This recognition underscores our commitment to serving diverse and medically underserved populations.
We are immensely grateful to our dedicated staff, supportive community partners, and our patients for their trust and collaboration. Together, we continue to pave the way for equitable and accessible healthcare in our community."
###
Crescent Community Health Center first opened its doors in October of 2006. Crescent was founded by a group of dedicated board members made up of community stakeholders who identified the need for primary medical and dental care for underserved populations. Since then, Crescent has been providing high-quality primary and preventive medical, dental, and brain healthcare to members of the community.