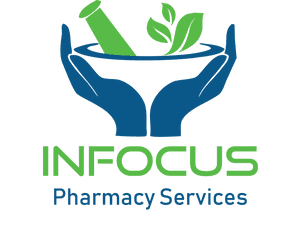 Infocus Pharmacy is located on the second floor of our health center and was acquired by Crescent in December 2022. At Infocus Pharmacy Services, we believe that being a community pharmacy means your experience should be personalized and unique. Proudly serving the Dubuque community, our friendly staff strive to exceed expectations and provide a service unmatched by others. Our expert pharmacists will take the time to answer all of your questions and our friendly staff will make you feel right at home. Being a patient-centered pharmacy means your happiness and well-being are our top priority. 
Our pharmacy provides access to low-cost medications and on-site clinical pharmacy services. Your provider will work with you and the pharmacist to decide the safest and most effective treatment for your conditions. Ask about access to the 340B medication list available to Crescent patients only at Infocus Pharmacy Services. 
Please contact Heather, Director of Clinical Pharmacy Services, at 563-690-2433 to inquire about 340B eligibility. 
Infocus Pharmacy Services
Medication Savings

Our pharmacists work with you to coordinate benefits and find financial assistance.