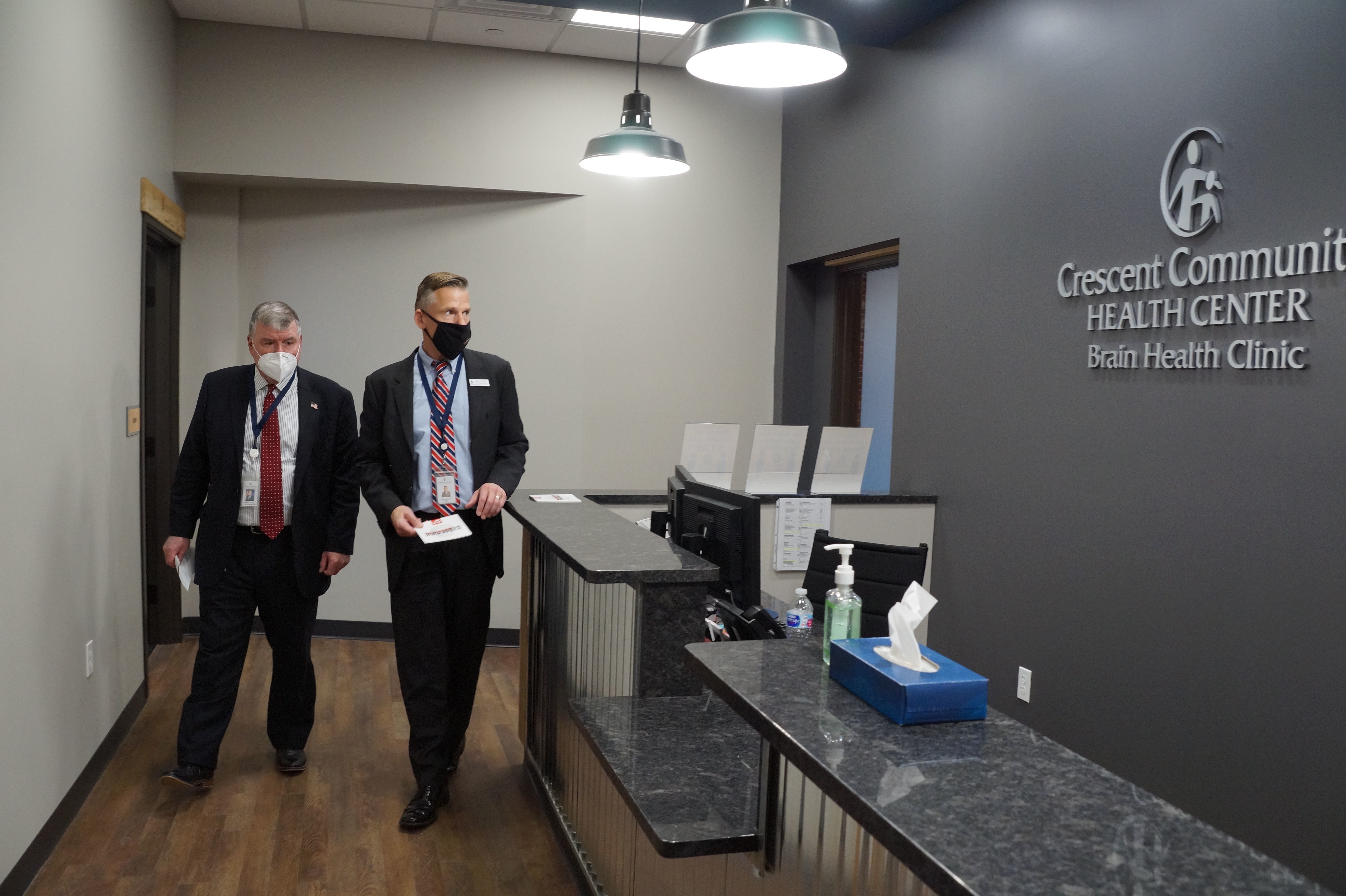 DUBUQUE, Iowa, November 23, 2020 – Today Crescent Community Health Center (Crescent) welcomed Mr. Thomas Engels, administrator for U.S. Department of Health and Human Services' (HHS) Health Resources and Services Administration (HRSA). HRSA is the primary federal agency within the HSS responsible for improving access to healthcare for people who are geographically isolated and economically or medically vulnerable. Crescent is a grantee through HRSA and provided a tour of the health center. Mr. Engels is also a member of the White House Coronavirus Task Force, so his visit enabled Crescent to learn firsthand about ongoing challenges with COVID from a task force member, as Crescent shared perspectives on the pandemic from a regional view.
"We are delighted to showcase our health center to Mr. Engels and highlight our expanded capacity during his brief visit," stated Gary Collins, Crescent CEO. "It is always an exciting opportunity when we can share our great work with funders firsthand!" Mr. Engels was provided an overview of the health center, including a detailed overview of Crescent's dental, medical, brain health and other operations. 
HRSA supports public health services for nearly 56 million pregnant women, mothers, children and families. The unprecedented health crisis of the COVID-19 pandemic has also created unique challenges for HRSA patients and grantees. The support Crescent and other community health centers have received from HRSA to expand capacity, enhance and continue operations has enabled Crescent to purchase additional safety equipment, PPE and take other precautionary measures.
Mr. Engels sought to visit Crescent as he grew up about 20 minutes east and wanted to see the great work Crescent was doing. "I grew up just across the river in Shullsburg, Wisconsin so the Dubuque community is a part of me and who I am. And health centers like Crescent Community Health Center fill a vital role in keeping their communities safe during this pandemic," said the Administrator of the Health Resources and Services Administration, Tom Engels "But it's important to remember that with cold weather moving people indoors and pandemic fatigue setting in, COVID cases, fatalities and hospitalizations are rising faster than ever before. A vaccine is on the way, but we all need to hang in there a little longer and continue to take measures to protect ourselves and others. Remember the 3Ws: Wash your hands, Watch your distance, and Wear a mask."
In the spirit of the Thanksgiving holiday and nearly one year from our opening at our new facility, Collins remarked, "It has been a truly remarkable first year at our new location and I could not be more proud and thankful for the great team of care providers and staff we have. Mr. Engels' visit acknowledges our presence amongst the 1,400 health centers across the United States and reminds us of the importance of taking time to pause, celebrate and continually improve our operational footprint to ensure the best possible care in our tri-states service area for more than 6,500 patients."
###
About Crescent
Crescent Community Health Center first opened its doors in October of 2006. Crescent was founded by a group of dedicated board members made up of community stakeholders who identified the need for primary medical and dental care for underserved populations. Since then, Crescent has been providing high-quality primary and preventive medical and dental care to members of the community.