Guidestar.org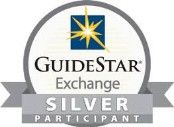 In June 2013, GuideStar, which connects people and organizations with information on the programs and finances of IRS-registered nonprofits, announced "major changes" to its "GuideStar Exchange" program.
GuideStar describes GuideStar Exchange as "the only program of its kind that encourages nonprofit transparency on a national scale and allows nonprofits to supplement the public information that is available from the IRS." The program is free of charge and open to any-sized nonprofit. Now, however, instead of being an "all-or-nothing Seal program," GuideStar Exchange is made up of bronze, silver and gold participation levels based on the amount of information the participant shares with the public through GuideStar.
The information required for each GuideStar Exchange participation level is summarized below:
Bronze (Basic Information): Only basic level information is required. The basic information includes the nonprofit's address, the name and email of an employee contact, mission statement, geographic area served, and the names of the organization's leader and board chair. No financial information at all is required to be provided by the nonprofit.
Silver (Financial Information): Audited financial statements or a "GuideStar Basic Financial Statement" is required. The nonprofit also must certify that the financial information provided is "up to date and accurate." The basic information for the bronze level also is required.
Gold (Impact/Effectiveness Information): A "Charting Impact" report is required and must be certified as being "up to date and accurate." A Charting Impact report is a self-reported collection of impact information based on the nonprofit's own responses to five questions related to goals, strategies, capabilities, indicators, and progress. The financial information for the silver level and basic information for the bronze level also is required.