Patient Testimonials
---
My husband lost his job 14 years ago. We had his insurance, so we were left without. It was extremely helpful to be able to go down and see a doctor, where it went by your income. It's been a huge blessing for our family, particularly in the last year.
- Patti
---
I seek care at Crescent because there is a lot of opportunity for resources and not only opportunity, but the staff show their care and that is what makes me come back.
- R.J.
---
I have been coming to Crescent for a long time and get dental, medical and insurance services here. My income has fluctuated over the years and the staff has helped me with medications when I could not afford it and changing insurances between Medicaid and the Marketplace.
When I was first diagnosed with Crohn's other doctors would not listen to me. At Crescent they listen to me and helped me get referrals to Iowa City to see a GI specialist.
- T.H.
---
I love coming to Crescent because when you are going through a hard time medically the doctor takes time to explain everything. It just feels good not to have that stress.
- Nancy
---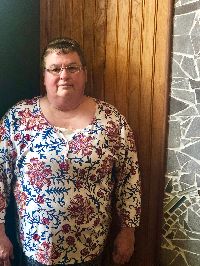 My name is Tammy and I have been a Crescent patient since 2011. I was originally referred here by a friend of mine and have been receiving medical services ever since. In 2012 I had a chronic cough condition and was finally diagnosed with the help of my nurse practitioner, Jenny Zalaznik, who monitored my symptoms and made a referral to a pulmonologist who diagnosed me with right middle lobe syndrome, which affects the right lung and bronchial airway. Working with Jenny she took the time to listened to my health concerns to find the cause and make the necessary referrals. She is truly focused on patient care, rather than making me feel like a number.

If I didn't have Crescent I would probably be making frequent trips to receive medical care in Iowa City. Additionally, for the last six months I have become part of the patient and family advisory council so I can advocate what the patient hears and see, and offer suggestions to improve patient/provider relationships.
---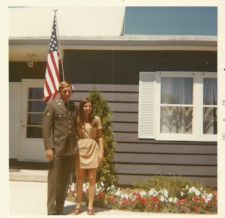 In 2011 my situation changed from private insurance coverage, to medical coverage provided through the Veteran's Administration with no dental care covered.   I thought I had no options for dental care, but then my provider recommended that I contact Crescent Community Health Center.

My first appointment for a dental exam was easy to schedule, and took place in June of 2011.  During appointments I shared my background and work experience with my dental hygienist, Sharon.  Over time she learned that I had been an Army medic during the Viet Nam conflict, I had a degree in public health education, and  my professional career had recently concluded with my final position being director of marketing for an electronic medical records company headquartered in Chicago.

Once this information came together Sharon stated: "You really should be on our board of directors." As the old cliché reads, "the rest is history."  Shortly after, there was an opening on the board and Julie Woodyard, CEO, reached out asking if I would serve.  I readily agreed and am currently serving my second term as a board member, along with being a member of the community relations and development committee.

To this day, I remain a Crescent dental patient and have been very pleased with the care I have received.  My time on the board has been rewarding and I am enjoying being of service to Crescent and to the community.  I highly recommend members of the community learn more about Crescent, ask questions, and get involved.  The health center provides quality services to people of all ages, backgrounds, and financial status - without Crescent many would have no where to turn for healthcare. 
 
---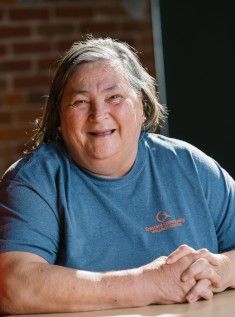 My name is Lois Denlinger and I have been a patient at Crescent since 2012. When I first established care at Crescent I wasn't feeling good.  After seeing my doctor, he recommended that I go to the emergency room since my sugar level was 500 + and I couldn't keep anything down.  I was immediately hospitalized to get my condition under control.  Once discharged from the hospital I saw Dr. Badger for my follow up care plan.  I was set up on a treatment plan to monitor my Type II Diabetes which included regular visits, medication management, and overall physical health. Once my Diabetes was under control it was recommended that I go to the Wellness Center to lose weight and reduce my A1C level.  I have been a member of the Wellness Center for four years now and continue to attend five days a week.  I have my own workout regimen and also attend special classes: Balance and Strength and Sit and Be Fit.  I am currently one of the founding patient members of the Patient and Family Advisory Council, established in July 2017,  advocating and representing the patient and family perspective.  In the coming days and years, I will continue to utilize the services offered by Crescent as a patient, advocate, and advisor with a positive attitude while motivating others to succeed with their individual wellness plans.
---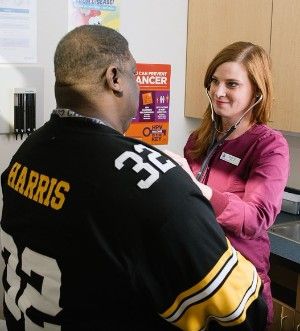 Hi my name is Joe Lewis and I am a patient at Crescent Community Health Center. In the process of relocating, I was looking for a family based facility that could provide me with the healthcare services I needed.  After looking at the Crescent website I saw there were a lot of services provided that fit my needs. Once I came in for a visit and I was able to talk to someone, it helped me make a decision to be a patient or not. I decided to come to Crescent due to the one-on-one service I receive and the employees really seem to care about their patients. The clinic may be large, but it has this small feeling to it because I can get to know the people – it's a friendly atmosphere.  So far I feel that they really care about my health and what they can do in order to improve my well-being.  I also joined the wellness center which is helping me achieve my fitness goals.  I can say so far that when I became a part of the Patient and Family Advisory Council it allowed me to share my experiences with others including family members and friends.
---